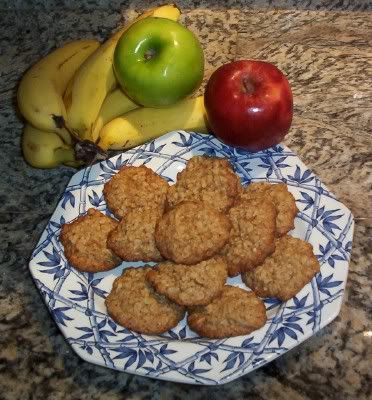 Since we don't keep much snack food at home, I let my son eat seasonal fruit or peanut butter on a spoon if he is hungry between meals.
Still, I keep finding leftover apple slices and 1/10th of an abandoned box of raisins. I don't want to encourage him to empty his plate by habit, yet I don't want to waste food, either.
A forum friend shared her great idea: using leftover oatmeal as a base for cookies. Since experimenting with her recipe, I've started saving all those little bits in a covered fridge container:
the last cup of breakfast cereal
bananas smeared with peanut butter
chopped apples
a dollop of jelly from an ambitious breakfast plate.
I think these leftovers blend better in a cookie batter than in muffins thanks to very forgiving oatmeal binder. Below is my current version of Scrap Cookies:
1/2 cup butter3/4 c. brown sugar1 egg1 c. cold cooked oatmeal1-1/4 c. flour (using 1 cup WW pastry flour makes a crisper cookie)1/2 tsp. salt1/2 tsp. bkg. soda1 tsp. cinnamon1 tsp. vanillaAt least 1 cup leftovers such as chopped apples, raisins, coconut, etc.Up to 1 additional cup uncooked oats, rolled or steel cut
Cream butter, sugar, egg, and vanilla. Sift flour, salt, soda, and cinnamon. Add to wet mix. Gently combine batter with cooked oatmeal and add-in's. The finished batter should have a semi-stiff consistency, or stay rounded as you drop the teaspoons on the sheet. Bake at 350* 12-15 minutes on lightly greased cookie sheet until edges are browned.
Enjoy them now--there won't be any leftovers from these.