If you've noticed all the "find of the day" posts recently, it's because I've only had minutes at the keyboard. My husband has commandeered the computer for the last part of his dissertation. Sharing a photo and the story behind it has been a quick--if shallow--way to keep
Like Merchant Ships
relatively fresh. While it's always fun, sometimes I feel like I'm straying from the mission here. Ann V. gently reminded me to thank God for the handmade paper at Salvation Army. I had--just not in public.
So many of you have emailed to ask for bargain-hunting advice , I think it merits a series of posts. First, though, an explanation:
I truly believe that our secondhand success can be credited to a trust that God will provide for our needs--and occasionally, our wants--in a way that honors our budget and exceeds our expectations.
There are just too many times when we've found exactly what we needed in the most unlikely of places. It's a phenomenon that defies logic. It's downright humbling to see how the smallest of our desires are met, or, if not, replaced by contentment in what we already have.
Here's another way in which this trust was deepened, just this week:
We have been using disposable diapers because my husband didn't want to deal with cloth. I acquiesed because, hey, I didn't want to be the only one who could change the diaper. (Flashback to my
grand garbage experiment of '05
.) Then came the baby's turn in the Bili-bed, and I was suddenly cleaning no diaper at all. I remember thinking, cloth diapers would be a luxury compared to this!
Yesterday we bought our second case of Pampers with a guilty conscience. $30 a month for diapers! How do people afford disposables and formula, too? We talked about it on the way home. I said,
Lord, I would really love to try cloth like my friend
Stephanie
, but I'm afraid to invest all the money. I'm afraid I am too lazy for the laundry. I'm afraid I will not follow through.

Today my mom had a biopsy. I was praying my way to the hospital with a screaming baby in the car. She called to say that the surgery had been delayed. I would have to kill at least an hour, so I followed the next neon yard sale sign. Here's what I found on the very first table: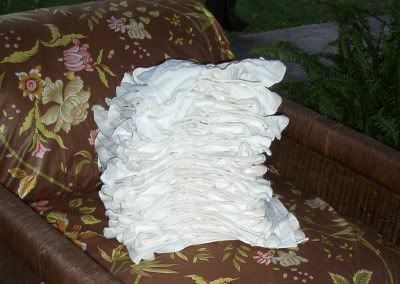 40 fitted cloth diapers with Velcro tabs for the exact amount of cash in my envelope.