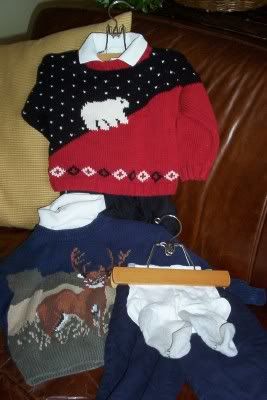 When you buy clothes secondhand, sometimes you end up with individual items, not outfits. I'm trying to solve this problem
and
simplify our closets at the same time.
Here's the new system: hang a complete change of clothes on each hanger.
For my son, I'm using wooden pants hangers. I sandwich slacks, socks, and underwear between the clip, then hang the shirt and sweater over the top.
In my closet, I'm doing the same, only with full-size wooden hangers. I loop accessories like a scarf or quilted bag over the hook. Not only does this eliminate the problem of "what to wear?" I can get by without using bulky dressers.
(Remember, for resale, the more of your floor is exposed, the more spacious your bedrooms look.)