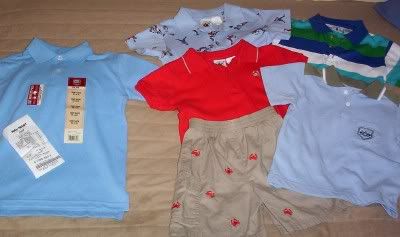 For the first time in four years, our wellspring of hand-me-downs has run dry.
When temperatures hit the 70's, Andrew didn't have any short sleeved shirts. My mom advised me to hit Walmart before the spring line sells out.
We ventured in the mega store and, before we knew it, had piled a stack of fresh pastel knits in the cart. Each of the cheaper shirts cost $5.88, or over $24 for four. I bought one, just in case, then headed down the street to Southern Thrift.
There I found four shirts (and a matching pair of shorts) for under $5 total.
All had gentle to no wear; all are higher quality cottons from brands like Le Top, Kitestrings, and Philadelphia Good Lad.
It still amazes me how much more I can get for my money at a thrift store.