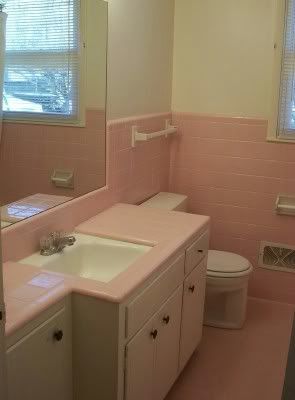 Just an example of where my remodeling budget came to a grinding halt!
I would have loved to update my 50's pink beauty parlor with some of that $1.50/sq. ft. Home Depot slate tile, but I just couldn't justify the time and expense for this neighborhood. I would have had to replace the custom vanity and sink and quite possibly the window.
For now I've simply changed the light fixture from Hollywood lights to frosted glass and brushed nickel, swapped the broken metal knobs for crystal, and added a watercolor painting, white-on-white shower curtain, and fluffy white towels and bath mat.
Don't tell the guys, but I secretly enjoy all the pink!
Next week:
how to build a "man room" and why it is essential for your marriage...and for resale!