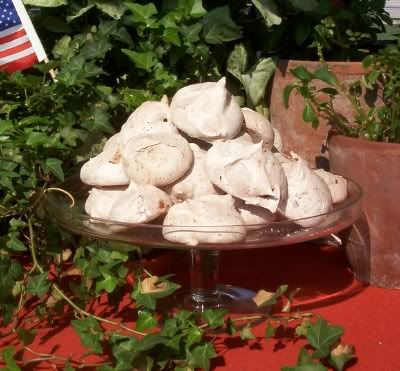 I am planning a holiday tea for my neighborhood this December.
To prepare, I'm compiling a list of finger foods with inexpensive ingredients. These meringue cookies are almost perfect, as they don't use any butter or flour.
(They're also acceptable for the gluten-free guests who are visiting this afternoon.)
Serve with a plate of sliced fruits at tea time or on a pretty pedestal on your dessert buffet.


I found this recipe in Charleston Receipts Repeats. I omitted the chocolate chips (too pricey) and substituted 1/2 cup unsweetened coconut flakes and 1/4 cup cocoa from the bulk food store. You can also use different flavorings in place of the vanilla.
Yields: 10 dozen small cookies (or 32 larger cookies--bake longer if you increase the size)
4 egg whites
1/2 teaspoon cream of tartar
1 teaspoon vanilla
1 1/2 cups sugar
10 oz mini chocolate chips
Preheat oven to 300 degrees. Bet egg whites until they almost stand in peaks. Add cream of tartar and vanilla. Gradually beat in sugar. Beat until stiff. Fold in chips. Drop by teasoons onto foil lined cookie sheet. Bake at 300 for 15-20 minutes. Lift gently from foil and cool.