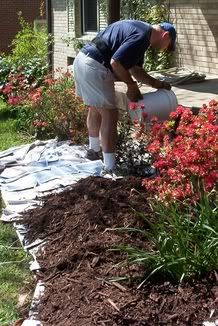 We made use of the beautiful spring weather to enlarge the existing flower beds. I learned this technique from my aunt Terry and Cassandra Danz, Mrs. Greenthumbs. Here's how you do it:
First, acquire a large stack of newspaper sections. Spread them out over the ground you want to cover. Don't dig up the grass, just lay down thick sections, overlapping completely.
Wet the newspaper so it doesn't blow away.
Cover with a generous layer of mulch. Over time, the newspaper will break down into the soil, keeping weeds and grass from sprouting. Newspaper also keeps the bed moist.
If you want to plant in the bed the first season, you can. Simply brush away the mulch and cut a hole in the newspaper. Fold back the edges. Dig a hole and amend soil with humus before inserting the plant.
Then, just fold the newspaper back around the plant and recover with mulch. Easy as pie...
...especially when your husband is doing most of the shoveling!